GhostBear makes your encrypted data less detectable to governments, businesses, and ISPs. It does this by making VPN traffic less detectable on your network, making it harder to block. GhostBear is currently available on our Windows, macOS (v4), and Android apps. GhostBear is not currently available for iOS or macOS (v5).

When to use GhostBear
If you're already able to connect to TunnelBear without enabling GhostBear, you should NOT enable GhostBear. Using GhostBear when it's not needed can make your connection slower or cause it to not work at all. Leaving GhostBear off doesn't make you less secure. You'll still be protected by the latest and greatest encryption technologies.
If you're not able to connect to TunnelBear or find that your bear can't maintain a connection normally, we recommend that you try enabling GhostBear. If you don't notice any improvement, please make sure to turn GhostBear back off before reaching out to our friendly Support Bears.

How to enable GhostBear
If you're using GhostBear on Windows or macOS, enter your TunnelBear preferences by selecting the Gear icon within the app (located on the left side of the app for Windows, and the top right corner for Mac). Select "Settings" and then check off GhostBear.
If you want to use GhostBear on Android, click on the "Menu" icon in the top left corner (the three horizontal stripes). Then select "Options" and check off the GhostBear box.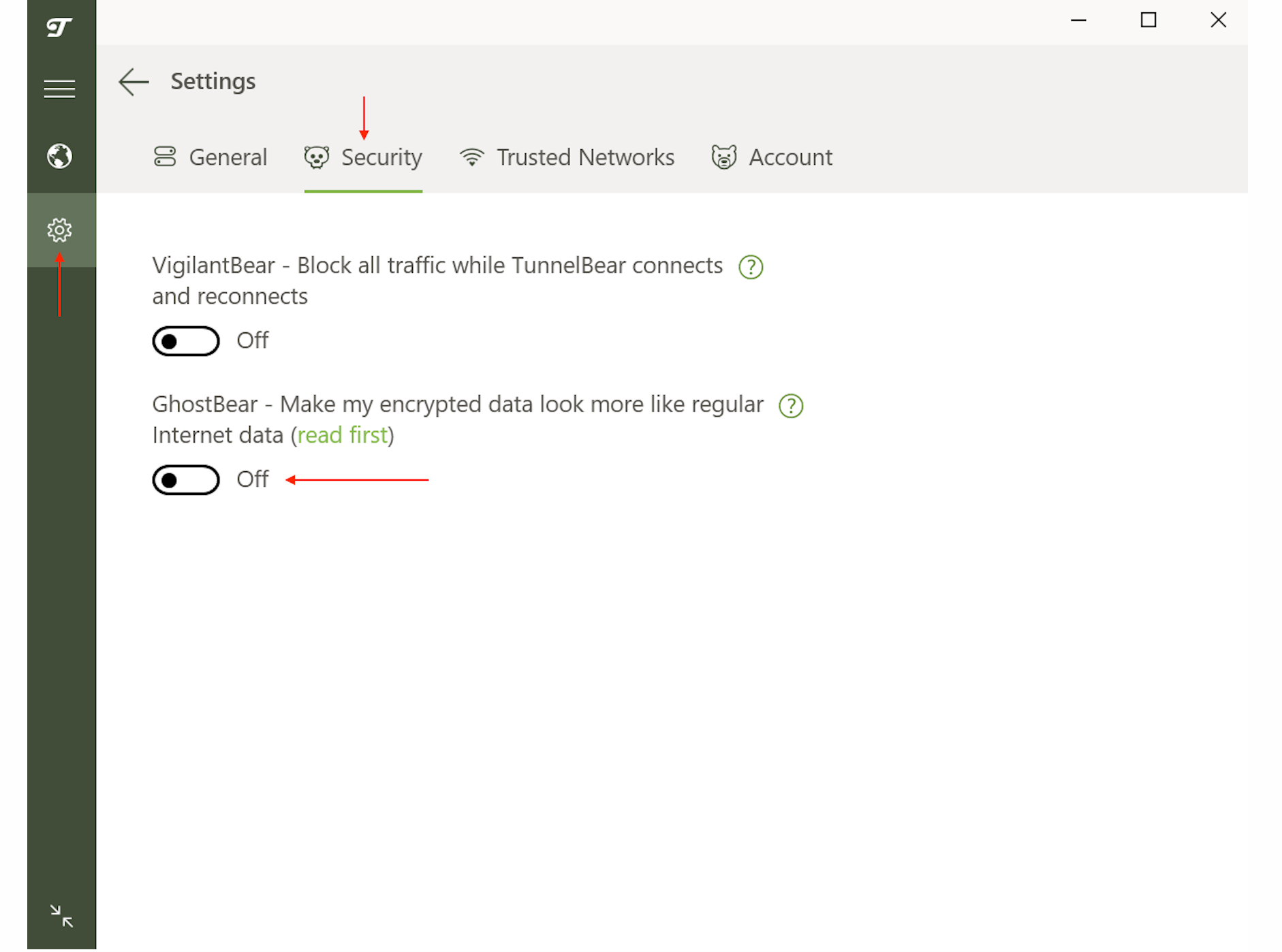 Windows

MacOS

Troubleshooting issues with GhostBear
Slower connections:
Some speed loss is expected when GhostBear is enabled. This is caused by the extra 'scrambling' needed to further obscure your encrypted connection. If you don't need GhostBear to connect, turn it off for higher speeds.
GhostBear option greyed out:
1. If TunnelBear is already connected, you won't be able to enable GhostBear. Turn TunnelBear off and try again.
2. TunnelBear will not allow you to enable GhostBear if your computer is running a custom proxy. Sometimes third-party security programs, or alternate VPNs can be responsible for making these kinds of changes. Disable these and try connecting again.
NOTE: On some networks, a custom proxy is required to access the internet without TunnelBear, so please double check with your network administrator or ISP before disabling or changing any custom proxy settings if you're not sure where they came from! For more information on how to check your current proxy settings on macOS, head here.
Issues with GhostBear on Windows:
Some Windows computers may be running a program that is known to interfere with GhostBear. If you have Killer Network Services installed, you'll need to disable it in order to use GhostBear. If you're unsure whether you have the program installed, simply open your Start menu and search for Killer Control Centre.
If you have the app installed, launch Killer Control Center and head into the Settings (gear icon on the left side). There, you'll see a toggle switch for Killer Prioritization Engine (formerly: Advanced Stream Detect). Make sure the toggle switch is in the OFF position. Then, try enabling GhostBear and connecting to TunnelBear again.