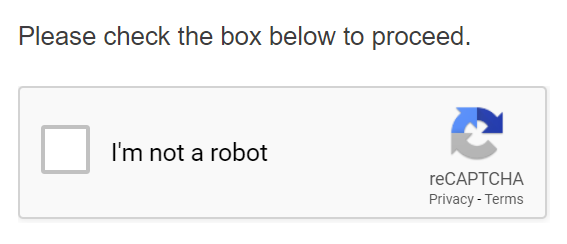 What is a CAPTCHA?
CAPTCHA stands for "Completely Automated Public Turing Test to tell Computers and Humans Apart". These tests are used to make sure a user is a human and not a bot.
Why do I receive a CAPTCHA when using TunnelBear?
You might receive CAPTCHA prompts when using VPN services such as TunnelBear.
This happens because the website you are attempting to access is detecting that too many requests or searches are coming from a singular IP address. In order to help keep your browsing more private and secure, our IPs are shared among many users so that no particular IP address is ever tied to one individual. As a result, many users may make a request to a service from the same IP address, hence why the service may require a CAPTCHA to be completed.
You can try connecting to our US tunnel to see if it helps, as we do have more servers available, and it's less likely that websites will flag the IPs for a CAPTCHA check. You can also try reconnecting the TunnelBear app to be granted a new IP address.
If that doesn't help, unfortunately you will need to complete the CAPTCHA in order to continue using TunnelBear to access these services.